In May, as my sister-in-law Kim turned forty-nine, she reflected on a question attributed to Satchel Paige: "How old would you be if you didn't know how old you are?" Kim decided she would be sixty-three, because her experiences have been too many and varied for forty-nine years to hold.

What about me? Answering Paige's question quickly, I might place myself at my actual age, which is less than sixty-three. I'm a partner in a lasting marriage, the mother of a grown son, a writer with an established career--my description matches my age. My experience and the knowledge and wisdom I've acquired along the way feel about right for my age, too. But this is the easy answer.

Because recently, while putting together a slide show to accompany a talk about my life and work, I ran across my first-grade picture. I felt a wave of recognition, a fond embracing of this little girl with missing teeth whose dark blond hair was set in pin curls the night before, who wears a red and white checked dress with the short, puffy sleeves she adored.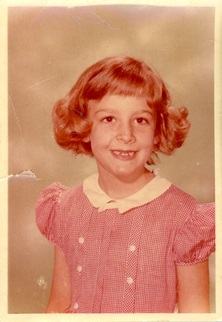 As I peered into the childish face that once smiled back from the bathroom mirror, the little girl came to life in me. I sat in her first-grade classroom and looked around at her peers, at the wide-ruled paper on her wood-grained Formica desk, at the empty playground outside the bank of windows. At home, where she played hard outside, I climbed and ran, feeling so much nearer to the ground than I do now. I clambered onto the picnic table and jumped, hoping that this time I would fly.

Then, not long after finding this picture, I received a package from Ruth, my friend in New Zealand, with whom I have corresponded since I was fifteen. She had returned some of my early letters and the photographs I had sent her over the years. My first thought was that we were breaking up, but Ruth told me she was thinking ahead to the day when her children would have to sort through her things, and she wanted to save them trouble. (Ruth's virtual age must be beyond mine, because it will be awhile before I think this way.)

The photographs, some familiar and others forgotten, offered a quick tour of my young adult years. They brought me back to the funny places I'd lived and returned to me things that had been lost long ago. They were a tap on the shoulder, a reminder that life passes by in a flash.

The letters, though, were something else. Suddenly and unexpectedly, I was hearing from my teenage self. In the handwriting she had worked hard to make "interesting," she wrote of her love for art and music, although her taste was evolving. Indirectly she expressed the wish that there were more to see and do in her Long Island town. It pleased me to find her a carefree, happy girl, but she was such a kid! I remembered and embraced her, too.

Seven years old, fifteen, grown up and moving out on my own. I'm all these ages and more, because all my past selves live within me. So there's only one right answer to Paige's question: I'm ageless.