In 1912, U.S. Army Captain Charles Young attributed "all progress and all advance in human society" to "the force and energy of minorities, who by their leadership and often martyrdom, clear the obstacles to advance and give character to the masses." When I consider the social progress Americans have witnessed in the past century, progress that has included the historic gains of the Civil Rights Movement, achievements in women's rights, and the ongoing effort to secure marriage equality, I conclude that Young was right. A comfortable majority is not going to seek change; the impetus must come from those who feel excluded, passed over, or ignored. And, without a doubt, Young's own life proved the truth of this words.

Born to enslaved parents in Mays Lick, Kentucky, in 1864, Charles Young had the humblest of beginnings. After emancipation, his parents took him to Ripley, Ohio, where he went to school, graduated with honors, and became a teacher. The people around him saw his potential to go far in life, and this was why his principal urged him to take the qualifying examination for the United States Military Academy when it was offered nearby. Young took the test and received the second highest score.

The academy had admitted a few African Americans by the time Young arrived in West Point, New York, in 1884, and it had even graduated one, Lieutenant Henry O. Flipper. But as Young discovered, it didn't welcome them. The white cadets insulted their black peers and shunned their company, but Young stuck it out, and in 1889 he became the third African American graduate of the military academy. (John Hanks Alexander, who was commissioned in 1887, was the second.)

The army sent Lieutenant Young to Fort Robinson, Nebraska, and Fort Duchesne, Utah, to lead units of Buffalo Soldiers, the African American regiments that served as peacekeepers on the western frontier. In these assignments and at traditionally black Wilberforce University, where he taught military science from 1894 through 1898, Young commanded no whites. That changed when he was sent to Camp Algers, Virginia. There, a white soldier refused to salute Young until the camp commander reminded him that he could salute an officer's jacket and not the man in it.

Young stayed in the army despite such shameful treatment and was promoted to captain. He married and in 1904 was sent as military attache to Haiti, where he came into his own. In addition to fulfilling his regular military duties, Young produced maps of Haiti and its neighbor, the Dominican Republic, and reports on their shared culture. He wrote a play based on the life of Francois-Dominique Toussaint Louverture, the Haitian revolutionary leader, and a study of military efficiency throughout the world that was published in 1912 as Military Morale of Nations and Races. In this book he demonstrated that a soldier's effectiveness has nothing to do with his race. All humans, he wrote, have an "equally inherent capacity for progress."

As military attache to Liberia, beginning in 1912, Young carried out exploratory expeditions, oversaw the building of roads, and reorganized the Liberian army. For these accomplishments, the NAACP awarded him its Spingarn Medal in 1916. Then Young went back to the western United States to take part in the Punitive Expedition, the aborted attempt to capture Mexican revolutionary leader Pancho Villa. Promotions came regularly, to major and to lieutenant colonel.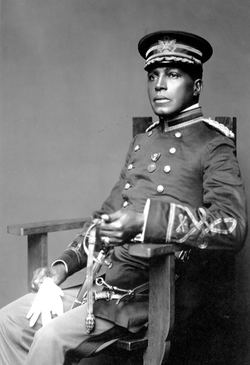 Young was a full colonel in 1917, when the United States entered World War I. His desire to command soldiers in France presented the army's leaders with a dilemma. If he excelled as a battlefield commander (and there was no reason to think he would not), then he would be eligible for promotion to general. Rather than risk bestowing this honor on an African American, they sent Young for a physical exam. It was hardly a surprise when the doctors found some early signs of kidney disease and declared him unfit for overseas service.

Young retired from the army rather than accept a stateside command, but he proved his fitness in June 1918 by journeying the 497 miles from Wilberforce, Ohio, to Washington, D.C., by foot and on horseback. Young returned to active duty and, ironically, was sent overseas--to Liberia rather than France. After he died while making an exploratory trip to Lagos, Nigeria, in January 1922, W. E. B. DuBois observed, "Duty to him, as to few modern men, was spelled in capitals. It was his lodestar, his soul; and neither force nor reason swerved him from it."

Still, the gratitude and respect this soldier had earned from his fellow citizens were long in coming. I know this because several years ago, my research on Young took me to the National Archives, the repository of his military records and papers. I wanted to see the maps and reports he had created while serving in Haiti, but I was out of luck. I was informed that decades earlier, a clerk had decided these documents had no value and had thrown them all away.