It was the kind of question I like best. My niece Lauren, a Peace Corps volunteer, asked me to recommend some classic books for her to load onto her Kindle. An e-reader is invaluable for someone who lives in a small village in Paraguay, where books are hard to come by, as Lauren does. And she can download so many classics at no cost--what a help to a young person with a small income!

How to choose? So many great books have won my loyalty and affection over a lifetime of reading. I decided to narrow my list to the titles that have the firmest hold on my heart.These books are the best kind of old friends, the ones I can revisit after a long absence and feel immediately at home.

The earliest book on my list was Tom Jones. I first read Henry Fielding's delightful picaresque novel as a teenager after seeing the movie starring Albert Finney and Susannah York. Enamored of the love story, I skipped the chapters introducing each "book" of the novel, in which Fielding addresses the reader directly on such topics as the world vs. the stage, and writers and writing, because I wanted to get to the good parts. But when I read Tom Jones a second time, as an adult, I had patience enough to slow down and savor these chapters. In them I met a likable man of wisdom and wit, whom my son has described as something of a "goofball." Fielding projected an avuncular persona, so it is surprising to learn that he was just forty-two years old in 1749, when Tom Jones was published, and that he died five years later.
"It was the universal opinion...that he was certainly born to be hanged," wrote Fielding about his hero. "It is a truth univerally acknowledged, that a single man in possession of a good fortune must be in want of a wife," wrote an author two or three generations removed. The duels, carriage chases, and near hanging that Fielding described held less interest for Jane Austen than did subtleties of thought and feeling. My niece had read Sense and Sensibility, Austen's first published novel, so I recommended the second, Pride and Prejudice. Many readers consider it her greatest work, and it happens to be my favorite.

Opportunities for Austen and her heroines were restricted by law and by what society deemed proper feminine behavior. Not a whole lot had changed by the 1840s, when the Bronte sisters were writing their novels, but social conventions had eased enough for Charlotte Bronte to admit to feeling passion, an emotion generally considered the privilege of men. What was more, she created a heroine who felt passion, too, and who had the courage to act on it. My next recommendation for Lauren was the admirable Jane Eyre.

The Brontes wrote during the Victorian period, when Charles Dickens was peopling English literature with so many memorable characters. My list for Lauren had to include something from the man who gave us our picture of Victorian England, and again I went with my favorite: David Copperfield. "Whether I shall turn out to be the hero of my own life, or whether that station will be held by anybody else, these pages must show": the opening sentence is an invitation that book lovers find hard to resist. David's story is the adventure of life. We readers travel with him from childhood to maturity, as he endures cruelty and finds kindness and, finally, love. David's friends become our own, and we never forget the faithful servant, Peggotty, or well-meaning Mr. Micawber, who can never quite get his financial act together. Of course, villians are fun, and in David Copperfield Dickens gives us one of his best, the conniving Uriah Heep.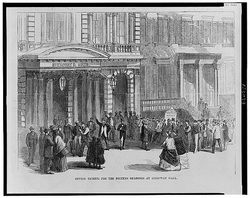 Dickens had vast numbers of admirers in his lifetime, as he does today. Here fans line up in New York in 1867, to hear him read from his work.
Two great Russian novelists also made my list: Tolstoy and Dostoyevsky. How could I not include Leo Tolstoy! Even in translation his prose flows simply and beautifully. His stories move at a lively pace, and his characters come to life on the page. I recommended Anna Karenina, in which love leads the title character to a tragic end but brings happiness to others. This novel, too, has a famous opening line, translated in my edition as, "All happy families are like one another; each unhappy family is unhappy in its own way."

Anna Karenina was published in serial form between 1873 and 1877. Fyodor Dostoyevsky completed The Brothers Karamazov just three years later, but in its penetrating exploration of psychology and its weighing of faith and doubt it points the way to twentieth-century literature. A character in Kurt Vonnegut's Slaughterhouse Five remarks that "everything there [is] to know about life is in The Brothers Karamazov," and this is only a small exaggeration.

While Dostoyevsky was writing his masterpiece, a world away Henry James was publishing Washington Square. James's canvas was old New York, and on it he painted a portrait of Catherine Sloper, the only daughter of a rich man who looks out for her well-being and that of her inheritance at the expense of her happiness. Catherine is an ordinary girl, and James portrayed her with great sensitivity--a difficult achievement. This is why I simply had to suggest Washington Square.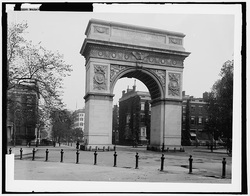 A house near Washington Square, New York, shown here in a 1901 photograph, is the setting of James's poignant novel.
I went back to England to list works by two authors writing in the twentieth century, E. M. Forster and Virginia Woolf. Both offered readers several good books, but from Forster I singled out A Room with a View (1908), in which Lucy Honeychurch, a young woman from a well-to-do Edwardian family, marries fror love rather than social station. The exquisite Merchant-Ivory film based on this novel makes plain that Lucy's family supports her decision not to marry the socially acceptable bore Cecil Vyse, but the novel brings out something more interesting, that they cannot understand her elopement with handsome George Emerson, whose social standing may be questionable.

From the brilliant Woolf I chose Mrs. Dalloway (1925), which chronicles a day in the life of a middle-aged married woman, and was an early experiment in stream-of-consciousness writing. I will end this long discussion with a sentence from Mrs. Dalloway, because it contains one of my favorite images in all of literature: "And then, thought Clarissa Dalloway, what a morning--fresh as if issued to children on a beach."