Our nation has never added a memorial to its capital without arousing controversy, at least as far back as I can remember. To some people in the 1980s, the Vietnam Veterans Memorial, a wall of black stone bearing the names of the dead, seemed uncomfortably like a comment on the war. And those who wanted their monuments representational objected so loudly to the memorial's design that Frederick Hart's realistic statue of three soldiers now stands nearby.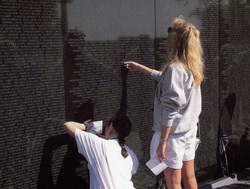 photograph by John Reef

There is no pleasing everyone. We humans have surprisingly strong and diverse opinions about what our monuments and sculpture should look like. The Franklin Delano Roosevelt Memorial, for example, elicited heated public discussion about depicting FDR in his wheelchair, which led to an uneasy compromise between traditionalists, who preferred to honor Roosevelt's preference for not being shown in his chair, and advocates for the disabled, who insisted that acknowledging the chair was a step toward acceptance.

The new national memorial to the Reverend Martin Luther King, Jr., has ignited plenty of controversy, too. For instance, the super-sized relief carving of King, emerging as it does from a slab of pale stone, makes some people think of Soviet-era state-sponsored art. It puts me in mind of the towering statues of gods and pharaohs that survive in Egyptian ruins. But no matter. There's an issue of greater concern, having to do with the quotations from King's speeches that are carved into the monument's sides.

In 1968, not long before he died, King delivered a sermon in which he said, "if you want to say that I was a drum major, say that I was a drum major for justice. Say that I was a drum major for peace. I was a drum major for righteousness." The memorial's makers liked this quote but thought it was too long for their purpose, so they edited it to read, "I was a drum major for justice, peace and righteousness." Maya Angelou has criticized this decision because to her the altered quote makes King sound egotistical, "like an arrogant twit." I fault it for another reason: when we change quotations, we obscure history.

I've seen this happen too many times. One person paraphrases the spoken or written word; a second person likes the new turn of phrase and puts it in quotation marks; later writers, too rushed or lazy to check the primary source, reprint this "quote," giving it legitimacy. And so history credits speakers and authors with words that were never their own.

Here's one example, drawn from my recent reading. In her 1848 novel The Tenant of Wildfell Hall, Anne Bronte wrote frankly about things her Victorian readers preferred not to see, such as alcoholism and marital discord. In one memorable scene, the heroine, Helen Huntingdon, locks her bedchamber door against her husband and refuses to let him in. I'm sure such things happened in Queen Victoria's time, but the notion of a woman denying her husband access to her bed shocked Bronte's readers.

In one critical work after another, I came across an intriguing comment from May Sinclair, a writer of a later generation. "The slamming of Helen's bedroom door against her husband reverberated throughout Victorian England," Sinclair was supposed to have written. It's a powerful quote, but none of the later writers offered a source for it, and this made me suspicious enough to track down Sinclair's 1913 book on the Bronte sisters. Sure enough, it wasn't what she wrote. Sinclair's actual words were, "The slamming of that bedroom door fairly resounds through the long emptiness of Anne's novel." It's still a vivid statement, even if the slam reached fewer ears. And it is accurate.

The makers of the King Memorial have said they will not correct the words carved into the monument, but they should. If they care about history, they will.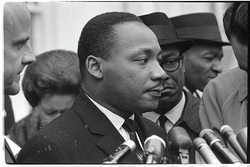 Martin Luther King, Jr., speaks to reporters in 1963.